Ya so ages ago I posted a thing about the new dubgroup I was setting up and was looking for generation 2 of the group. Well since then, Gen 1 have debuted along with releasing 2 slinter group songs, generation 2 and 3 have been added. Gen 2 will debut soon as well as a joint dub project and a solo release in the works.
So Generation 1 consisting of myself, Dran, Cheeky chill, Aibonono and etherealmotives debuted with our 1st release "Ai no Tane". It seemed right for H!B's 1st song to be Morning Musume's very 1st song. The instrumental was not at a contant bit rate when released in that early singles box set thing so cotton our mixer had a hard job syncing everything together. We, the singers also had it tough as the japanese was very hard in this single and it took everyone multiple tries to get it right. We were all really proud of what we had accomplished and with the first release out of the way we steamed ahead.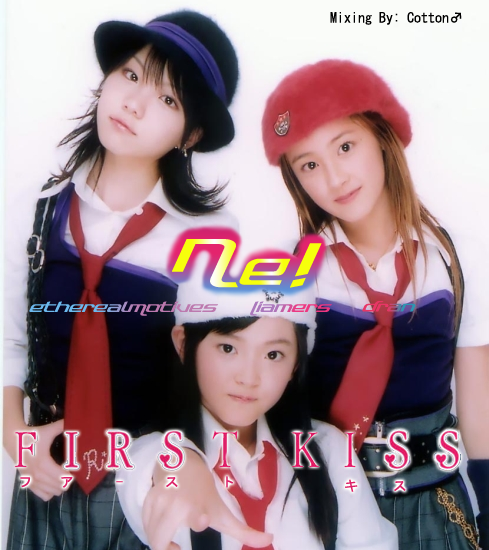 Then while searching for our generation 2, the existing group of 5 members were split into 2 splinter grouns "Ne!" & "Double Yu". Ne! which was basically the guy group included EtherealMotives, Dran and myself. We covered Aa!'s First kiss. This song was much easier in both pace and pronounciation. Ethereal dubbed Reina's lines, dran covered Miyabi's and I had the hard task of doing Airi's lines, but haveing the least deep voice it seemed to make the most sence. Cotton's work on this release was flawless, it is so perfect, he did an awesome job. I thoroughly enjoyed this release as I really liked this song.
H!B's latest release the 2nd splinter group from gen 1. It was the girls group consisting of Aibonono and Cheeky Chill that we called "Double Yu". They covered W's "Koi no Vacance". This release was released later than anticipated but in the end we got it out there. The girls really did an awesome job with this. Cotton was busy so I had to take up the task of mixing the track. This task was made a lot easier by the girls perfect timing, all I had to do was allign the girls tracks with the instrumental.
So they are the releases H!B have put forward so far, but we have loads more to offer. We have 4 new members, Eridorian, AimxAim, bee & jingkoto. They re really excited about their 1st release so I hope some people watch/listen to our releases and if anyone is interested in joining H!B please let me know:)
P.S sorry for the lack of updates until now, I had exams for the last month and a half but I thank you all you kept checking to site for updates, I promise I will post more over the summer.
See ya'll later!